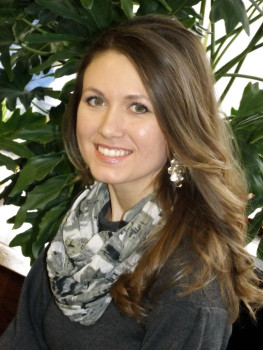 Make an Appointment with Elizabeth
Call or Text :
(816) 682-7942
Elizabeth
Elizabeth is a talented stylist with a passion for making her clients happy. Her services begin with a thorough consultation to ensure she knows exactly what the client wants. Her delight at the end of a service is a smile and, "That's exactly what I wanted!"
She graduated from cosmetology school in 2004, and since has become an esthetician and licensed massage therapist.
Elizabeth's favorite hobbies are art, traveling and continued education. She attended a Redken Symposium in Las Vegas and became a Redken Specialist. Her educational adventures include hair shows in St. Louis as well as cutting, coloring, styling and product classes, for example a braiding class by Sexy Hair.
Elizabeth says, "As a kid all I ever wanted was to be an artist, and I loved helping people. As a stylist, esthetician and massage therapist, I get to use creativity and help people look and feel their best."
—"When you look good, you feel great!"
Services by Elizabeth
Hair
Cuts
Color
UpDos
Highlights
Perms
Men's Cuts
Nails
Manicure
Pedicure
Gel Nails
Etc.
Brow Tinting
Eyelash Tinting
Brow Waxing
Facial Waxing
Chair Massage
Stress Relieving Treatments
Reflexology (Hands and Feet)
Copyright 2015 Just for You All Rights Reserved. | Design by
Lost Scribe Ink